Amazing Added Bonus:
FREE video on tracking wild animals (or dangerous men) is included!
"Notorious "Home-Grown" Outdoor Expert Reveals How Anyone Can Instantly Master...
Literally In Less Than 2 Hours...
The Super-Respected
"Total Survival" Confidence And
"Live Off The Land" Skills
Of A Hard-Core
Search & Rescue Professional!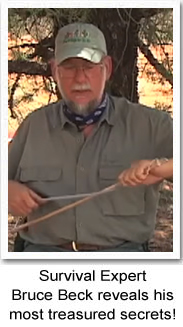 Experienced search and rescue veterans will tell you that most Americans, when faced with spending even a single night in the wilderness without equipment, will simply panic, freeze and die.
That's insane... especially when the secrets to not just last, but actually thrive for a week or more in the wilderness with nothing but your wits and knowledge... are so astonishingly simple and easy to learn.
Read on if you'd love to quickly learn the stunning "from scratch" skills and tricks of the best in the business...
(DATELINE: Visalia, CA) -- It's just inexcusable that so many people have lost the basic skills and secrets of surviving without shelter and clean water and electricity for short emergencies in the wilderness.
Casual day hikers are now getting lost in record numbers. With dead cell phone batteries. It's crucial that every adventurer knows how to take care of himself and loved ones in emergencies. So that, instead of being confused and scared and helpless...
You Will Finally Be That Guy
Who Knows EXACTLY What To Do,
No Matter What Happens!
My name is Leo Costa, Jr., and I'm the president of TRS Direct. We have a 15-year reputation worldwide as the company that delivers the goods on the kind of serious stuff most men want to know. Our instructional programs are used for first-choice training by Navy SEALS, Army DELTA, big-city SWAT cops, and federal agents. We have become the most trusted name in video training in the world, among professionals and civilians.
What does this mean for you? Simple. When we decided it was time to create a "survival" video for civilians, we were able to quickly locate one of the most respected and sought-after experts in the field. And convince him to let us film him, revealing the amazing secrets and material and knowledge that he and other top Search and Rescue experts use themselves in the wild.
So this isn't just some hokey "make friends with Smokey" DVD. Nope. This is...
Hard-Core Survival Skills
That Can Save Your Life!
The guy we found is notorious among S&E enthusiasts... because he grew up in the Louisiana swamps learning how to live off the land — from scratch — with on-the-fly advice from his dad (himself a survival trainer for the U.S. Marines). His name is Bruce Beck... and he's so good...
You Could Drop Him Buck-Naked
In The Middle Of Death Valley...
And He'd Show Up 3 Weeks Later
Tanned, Rested and Well-Fed!
The skills Bruce can teach you are a very cool combination of ancient wisdom and modern variations. And the best part is:
You can learn everything he has to offer you just by watching his DVD! (No practice or training necessary — these are "see it, and do it" skills he's honed over a lifetime of training people literally in under 2 hours!)
You don't have to be in good shape, or have any previous nature skills! (It's simply like having an expert take you by the hand and show you everything you need to know... in such easy terms that you can use them any time, anywhere, under any circumstances.)
And... you don't need to change anything about the way you live your life! (No need to start carrying a small backpack of gear with you everywhere, no need to stuff your pockets with gizmos.)
These are the easiest and simplest skills you will ever learn. Yet... they will save your butt if you are ever faced with surviving in the wild for any length of time.
Listen: Bruce only agreed to do this training tape... because he was finally so fed up with finding people who'd been lost in the wilderness... and who died horrible deaths that were absolutely unnecessary.
Using even one or two of the secrets he could have taught them in five minutes, these people would still be alive.
But, faced with the darkness and cold and wet of the outdoors... and NOT KNOWING WHAT TO DO... they died. Sad. And preventable.
You can "arm" yourself with the best knowledge available, in literally just under two hours. With nothing more than this amazing multi-dvd set.
This is seriously good stuff. There are a lot of goofy books out there right now that claim to teach you how to survive dangerous situations. But they do NOT teach you even the basics of REAL survival — the foundation of making it during the most common emergencies away from civilization.
Here's just a taste of what you'll learn:
Why all outdoor experts first learn the 4 simple "basics" of survival — the secrets of finding water, staying warm and dry... and the critical "hidden" mindset you must decide on right away when emergencies happen! (Without these 4 skills, you could be meat within hours in harsh conditions. With them, you can be comfortable for weeks!)
Sure, everyone "knows" you need to avoid hypothermia... but the professionals know how to "self-diagnose" it quickly, and react before it can kill you. (Hint: You can only handle temperature drops of 30 degrees — and learning the simple secrets of knowing when you're in danger is most of the game.) Plus: What to do when your body temperature threatens to go above 104 degrees. (Heat stroke.) Not one "nature enthusiast" in a thousand truly understands what to do!
Why finding food is the least of your worries. And the one "attitude" problem that can doom you after the initial panic wears off! (Your new physical skills are worthless without the simple — but critical — psychological skills Bruce teaches.)
Specific shelters you can create quickly, from scratch, in specific climates! (Very critical stuff you won't find anywhere else about getting comfy in snow, grueling heat, wind, rain, desert, forest, all of it.)
The "debris hut" secret that can save your butt in crunch time! (Most people die from exposure they could have protected
themselves from with just a few minutes of easy work.)
· How to make rope from plants and bark! (Very cool and immediately useful.)
· Where to find water when there isn't any around! (There is, no matter how dry it seems. Just this secret alone will add days to your survival, where without it you could dehydrate and fade in hours.)
· A dozen new ways to make fire... even in the rain!
· How to sterilize bad water quickly, without tools.
· Why so much old-time "wisdom" of the wild is just dead wrong... and can get you killed! (Examples: Never drink animal or fish blood, stay away from water in cactus, and find good water in rocks!) (Yes, rocks.)
And a ton more. It just goes on and on... two solid hours of professional advice and techniques.
Yet, everything Bruce teaches you is so simple and easy... that you can "get it" just by watching the DVD. Once you see these tips and secrets, you won't forget them. You won't ever have to guess if you're suddenly in charge of frightened, confused people who don't have the faintest idea where to find water or shelter or how to get dry. Because, after you see this dvd just once...
You'll KNOW!
And just because you will know what to do... you'll experience a surge in confidence that begins immediately. And stays with you forever.
This is the kind of survival confidence that gives men instant respect. It shines like a searchlight in your eyes. Other men (without this confidence) can smell it on you. And women intuitively know that you are a guy they can rely on. Really, really rely on.
Here's what you need to do now: Just click on the "Add To Cart" button below.

Use your credit card. It's perfectly safe and 100% secure. The cost of your "test drive" is just $69. Or, if you'd rather talk with a live human being, call our offices at:
1-800-899-8153
(Ask For Dept SV-199)
Tell the operator you want to "test drive the new Survival multi-dvd package". You do not risk a penny, because you get a...
Full 100% Money-Back Guarantee
Good For 3 Months!
Part of our worldwide reputation... is that we always treat our customers like we wish other businesses would treat us. With respect, and with the benefit of the doubt.
When you call and order, we will rush-ship your dvd package out to you right away. You have a full 3 months to check it out for yourself. If — for any reason whatsoever — you aren't completely satisfied with these DVD... simply send them back and we will promptly send you a full refund of your purchase price. No questions asked. And no hassles, either.
You can call and use your credit card... or, if you prefer to pay with a check or money order (payable to TRS), simply send your $76 (that's $69 plus $7 shipping and handling) to: TRS, Dept SV-199, 606 E. Acequia Ave., Visalia, CA 93292. Do it now and I'll also rush you a...
FREE Video!
That's right! You get the main 3-DVD package of Bruce Beck revealing ALL his best secrets... plus... you get a BONUS DVD. This bonus video is yours, FREE, and I want you to KEEP it, even if you later decide to return the other DVD's for a refund.
Think of it as my gift to you, just for giving this material a "test drive" in your own home.
This free bonus DVD is by a famous "insider" tracker named Owen Couch. Owen has devoted his life to tracking wild animals, for hunting and for sport... and for finding his way out of the wilderness. He's so good... that several West Coast search and rescue operations hire him to find people. (Both the good people who get lost accidentally... and the bad guy fugitives who are trying to escape the law. The most dangerous "game" in the wild.)

World-class tracking is all about learning to "see" like a predator. You will learn to see the floor of the forest or desert as well as your own living room. And everything you find will seem familiar... and mean something very important. The evidence of what (or who) is around you is not only fascinating... it will open your eyes to a whole new world of wonder and danger you never knew existed before!
Most humans blunder through the world making horrific noise and staying utterly ignorant of the bustling life around them. No more, for you. One viewing of this DVD, and you will forever see the world with new eyes. Confident eyes.
The eyes of a man at home in the wild.
This is all great stuff. Are you ready to check it out for yourself? Order online right now or call us, today, at 1-800-899-8153. No risk. Immediate shipment. Three full months to decide, no pressure at all.
There's just one small "catch": This may be your ONLY opportunity to get this material. So you must hurry. Everyone who has seen this material has raved and flipped over it. It really is the best of its kind — deeply intense, very cool... and yet so simple and easy, you can learn it just by watching the video package.
Sincerely,

Leo Costa
P.S. Remember — you risk not a penny... you get a full 90 Days (3 months) to "test drive" the DVD, and decide for yourself if it's everything I've said it is... and if you aren't happy, you get a full refund of your purchase price, no questions asked. PLUS... you get to keep the "tracking" DVD, free, just for ordering. Very generous offer. Very urgent that you call or mail order today. Please do it right now, while it's hot in your hands. Don't risk setting this message aside, and forgetting about it. Call now.
P.P.S. Listen to what people who KNOW are saying:
"Very direct knowledge that was obviously taken from Bruce's personal experiences. Very well presented in a systematic understandable manner. It is well worth anyone's time to learn from Bruce". - Terrell Hasker, Sherman Oaks, CA, Photographer
"After taking Bruce Beck's course I now feel like I could "thrive" in the wilderness rather than just survive!" - Chosin Allan - St. Louis, Missouri - Author/Lecturer
"He will change your perceptions and thinking about everything you observe in nature. Studying survival with Bruce Beck will give you the "comfort level" he has in any wilderness situation." - Stacy Clark - Boulder, Colorado - Speaker/Instructor - Spiritual Sexuality