Special Forces Expert Says:
A welcome guest should he return to train with our troops!
SGT Kenneth Gentry
U.S. Army 19th Special Forces Group
Spec Op Commander Says:
Magnificent instruction! A high level of professionalism for all of the officers.
Major Aurelio Rodrigues
Commander, Military Brigade of Special Operation, Brazil.
Israeli Fight Expert Says:
Very impressive! I would like to express our gratitude to Sergeant Jim Wagner.
Colonel Gidy Lind
Academy Coordinator, Israeli Police.
"Real World Survival":
Simple, effective, real-world survival tactics for managing combative subjects, edged weapons attacks, multiple assailants, ground encounters and other life threatening situations. Valuable skills that officers can easily internalize and draw upon.
Jason M. Palmer
"Invaluable!"
Not only did SGT Wagner provide us with invaluable training in aircraft interdiction but he also showed us defensive tactics if we are ever attacked with edged weapons.
2nd LT Matthew A. Lillis
USAF 21st Security Forces Squadron
Major General Says:
This Command is glad to communicate to you that SGT Jim Wagner has been appointed to be an Honorary Member of the Brazilian Air Force.
Major-General Junito Saito
Fifth Regional Air Command
Royal Mountie Says:
Thank you for sharing with us the counter-terrorism material obtained during all your training around the world.
Constable Chris St-Jacques
Royal Canadian Mounted Police
"Outstanding!"
I recently purchased your tapes "Fighting Mindset." I found them to be outstanding. I have a C.C.W. License and NRA qualified in personal defense. I learned a lot from your tapes. Keep up the good work. Everyone that carries a handgun should see these tapes.
Jerry Molliver
Everett, MA
Navy SEAL Quality:
Even though I'm a civilian, I've gotten a taste of what the Navy Seals and the SWAT Teams practice! If you are going to defend your life, you have to be willing to do what it takes. I've taken other courses... but I find that Ben Cooley's home defense techniques are applicable to the most extreme scenarios.
Gary Gelson
Boise, ID
"Best Money Ever Spent":
Wow! That was the best money I've ever spent on instruction or equipment in my life. Awesome. The tactics were so simple but so effective. I watched in amazement for the entire time. Chris is the only instructor I've seen that has a real knowledge of street fighting. The many techniques also blew me away. They gave me the attributes I was missing and the moves nobody else could show me – at such a reasonable price. If it had cost 500 dollars it would have still been a huge bargain. It was everything you claimed.
Ryan Crowe
Schaumburg, IL
A New Calm Confidence!
This is a better investment than buying guns or knives to protect me with and it gives me a calm confidence to face any situation no matter what sick jerk I run into. I want to say thank you.
Steven Bone
Kinmundy, IL
"Very Easy To Learn":
Dale Comstock has vastly simplified the teaching of combat martial arts. He has broken it down into its basic physiological aspects which makes it very easy to learn and remember.
Darrell Hackler
Chief Instructor
Practical and Easy!
I found Dale's instruction in the combat arts to be different from anything I had been previously exposed to. This is a practical, easy to learn self defense system that anyone can quickly absorb and use.
Eric Wilson
Owner-Global Security Consultants Inc. Tampa, FL
Best of the Best!
Dale possesses the highest level of all around combat skills of anybody I have ever met. His teaching style is easy and methodical, with none of the arrogance I've encountered with other so called professional trainers. He's combined the absolute best of many martial disciplines into one very practical, easy to learn fighting system. What Dale can show you will give you the confidence to defend yourself appropriately in ANY threatening street situation.
James Finiello
U.S. Army-Ft. Bragg
This Truly Works!
Dr. V cuts straight through the crap and delivers what truly works. Awesome DVD! I've got dozens and this is my all time favorite cause it's real.
Alec M.P.
The Right Stuff!
This DVD is excellent training material for anyone who is serious about his combat training. Awesome!
Vadim Dobrin
Number One On His List!
I can't recommend this DVD enough.
Brian Fresisinger
TAKE THE TEST NOW!

See if YOU know what only world-class fighters really understand. (I'll Bet You Don't).

If you don't do well on this quiz, don't feel too bad. Because what most men "think" they know about street fighting (or what they see in the movies) is just DEAD WRONG and will get them KILLED in a real-life, hostile confrontation with someone who's hell-bent on doing them serious bodily harm.

This quiz, and the answers you'll discover afterward, will get you up to speed fast with plenty of fascinating – life-saving – facts and surprises along the way to shock and delight you.

For a safer life...



Bob Pierce Prez,
Fightfast.com/TRS Direct
---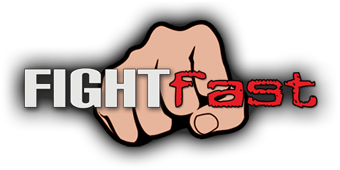 Let's move onto the main reason for this webpage – simplified self-defense instructional material that will get you up-to-speed fast. Check out these packages now if you're interested in knowing specific techniques and tactics to fighting and winning.
Enigma:
Real World Combat:

Featuring: Paul Vunak

Run Time: 3hr. 19min. (2 DVDs)

Paul Vunak is a master in several arts including Bruce Lee's Jeet Kune Do and Filipino Kali, and trained under Dan Inosanto, Bruce Lee's main training partner. Mr. Vunak teaches no-nonsense technique to survive on the street.

Regular Price: $97

Featuring: Glen Boodry

Run Time: 5hr. 7min. (4 DVDs)

Mr. Boodry is one of the US Government's top "Classified" counter-terrorism specialists. He has provided personal protection for Hamid Karzai the current President of Afghanistan. This duty was "Class One" dangerous, with numerous on-going assassination attempts.

Regular Price: $177